Pferdesportverband Hessen e.V.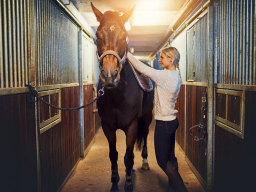 Herpesinfektion und Stallhygiene
In Pferdewirtschaft > Pferdehaltung
Location:

Live webinar

Video price:

49.00 € incl. VAT

Video duration:

2 hours and 12 minutes

Language:

German
A recording of this webinar is available.
Dr. Michael Weiler, langjähriger Fachtierarzt für Pferde der Tierklinik Gelnhausen, beleuchtet das Herpes-Virus näher und wird auf allgemeine und aktuelle Fragestellungen eingehen. Bietet eine Impfung Schutz vor einer Ansteckung und ist Impfstoff in ausreichender Menge vorhanden? Der erfahrene Referent wird keine Fragen offenlassen, wenn es darum geht, die Vor- und Nachteile der Herpes-Impfung gegeneinander abzuwägen.

Dr. Enrica Zumnorde-Mertens, Tierärztin aus der Abteilung Veterinärmedizin der Deutschen Reiterlichen Vereinigung (FN) und langjährige Turnierreiterin, beschäftigt sich im zweiten Teil der Veranstaltung mit dem Thema Hygiene und gibt wichtige Ratschläge zur Verringerung des Ansteckungsrisikos und zum Umgang mit Infektionskrankheiten.