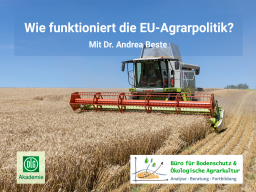 Wie funktioniert die EU-Agrarpolitik?
In Regenerative Landwirtschaft > Basiswebinare
Location:

Live webinar

Video price:

49.00 € incl. VAT

Video duration:

2 hours and 22 minutes

Language:

German
A recording of this webinar is available.
Dr. Andrea Beste ist Agrarwissenschaftlerin, Diplom-Geographin und Bodenexpertin. Sie ist ständiges Mitglied der beratenden Expert Group for Technical Advice on Organic Farming Practice der EU-Kommission. Im Webinar erläutert sie die Arbeitsweise der EU-Agrarpolitik, die derzeitigen Regelungen und die zu erwartenden Veränderungen.

Themen:
Farm 2 Fork-Strategie

Was steht genau in der F2F-Strategie drin?
- Was ist der Staus-Quo?
- Wo müssen Veränderungen ansetzen?
- Wo müssen F2F- und Biodiversitätsstrategie in Einklang gebracht werden?
- Was bedeutet das für die Gemeinsame Europäische Agrarpolitik (GAP)?
- Welche Rechtsakte müssen weiterentwickelt werden?
- Was bedeutet das für den europäischen Aussenhandel?

Agrarpolitik
- Wie sieht die neue GAP aus?
- Was sind Strategiepläne?
- Gibt es die erste und zweite Säule noch?
- Was wurde beschlossen?
- Was sagt die Wissenschaft dazu?

Die Teilnehmer können ihre Fragen per Chat-Funktion an Frau Andrea Beste richten. Die Aufzeichnung steht den Teilnehmern ein Jahr kostenlos zur Verfügung.